OUR HISTORY
The History of Bless Precision Tool, Inc.
Bless Precision Tool, Inc. was founded by Howard P. Bless in 1980. The business started as a tool and die shop in a 600 sq. ft. two-car garage. In 1983 the operation moved to a newly constructed 1,200 sq. ft. building at the same address. The company expanded from all tool and die, to tool and die, jig and fixture, prototyping and short run production. This called for a 50% expansion to the new building in 1985. As the business continued to grow, a larger building was needed. In 1992 the company relocated to a 4,000 sq. ft. building located near Quakertown. At the time 75% of the machining being done was low and high volume production machining. In 1996, seeing the need for more room, the company purchased a building in the industrial park in Quakertown. With approval for facility expansion already in place, the building was increased to 8,000 sq. ft. in 1997. Continuing to grow, a 55,200 sq. ft. building was purchased in 2015. Currently our machining is a mix of about 90% production machining and 10% prototype, jig and fixture. The original customer base covered about a 20-mile radius. Today Bless Precision Tool, Inc. is a second-generation company working with many companies nationally.
If you are one of our many customers, we thank you for your business and support. If you're not, why not give us a try. We are dedicated to customer satisfaction based on dependable quality and on-time delivery. We would be pleased to quote any of your requirements.
We thank you for taking your time to start to know us.
Howard P. Bless - President
Tim R. Bless - Vice President
ABOUT US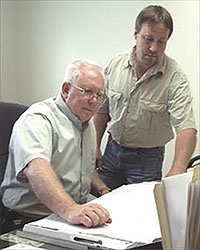 Please let me have a minute of your time to introduce you to our company and its services. You may be able to save your company time and money by letting us assist you.
We are a precision production machine shop that specializes in short to medium quantity lots. We also manufacture your jigs, fixtures and various custom tooling as your needs require and we'll do it all to your exact specifications and time frame. Another service we provide is assemblies and sub-assemblies.
Established in 1980, Bless Precision Tool, Inc. has built a reputation for quality and service and has earned the respect of the many companies we serve. To assure you of our quality we operate under an ISO-9001 based quality system.
We invite you to visit our facility and look forward to discussing any of your present or future requirements.
Thank You
Howard P. Bless - President
Tim R. Bless - Vice President